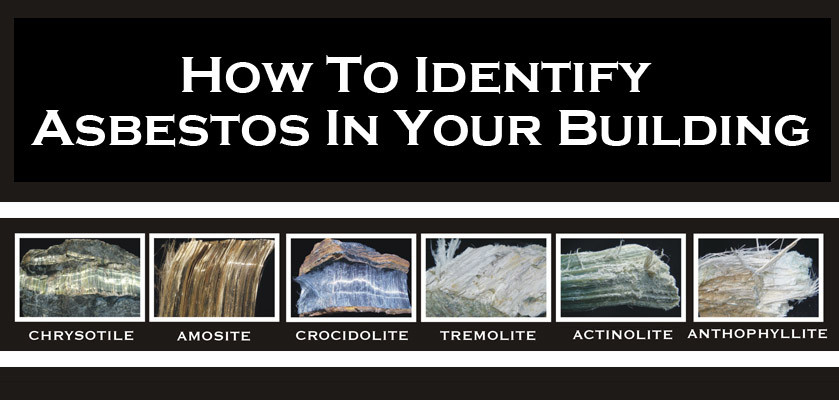 When you are a commercial property owner that has leased or has rented out a business, you will have control or management of that property.
Use this checklist to help you find and even identify asbestos in your building.
Learn when the building was built.
Asbestos was a big insulation and construction material for buildings that were built before the 1980s. The import and use of brown or blue asbestos or any asbestos products in the mid-1980s was banned and then banned all import and manufacturing of white asbestos products in 2003.
Although, building materials may have been stockpiled, recycled or stored and then used to construct buildings after the bans were put into place. This means that there could be a chance that asbestos materials could be in buildings that were constructed after the 1980s.
Now, this does include the extension or refurbishment of an original building before the 1980s that may have asbestos containing materials in their homes. Just because the original part of the building doesn't contain asbestos, you shouldn't assume that the additions do not.
Identify what materials were used in building of the property
Think about the main construction of the building and the materials used. Was it made from, steel, cement sheets, brick, timer, or other types of materials?
If you have cement sheets, there is a chance that it may contain asbestos fibers that are bonded to cement particles. For instance, if the roof is made from corrugated cement sheeting, there may be a chance that is contains asbestos.
Due to the waterproofing and hardiness qualities of asbestos, places that are prone to wet conditions such as laundry rooms, toilets, and bathrooms may have asbestos vinyl tiles and asbestos sheeting in the floors and walls. Just like the pipe that are through the building that carry water as well as sewage may contain asbestos.
Do a walkthrough inspection to locate asbestos
Give the building a thorough inspection of all the structures and buildings that includes all spaces and rooms, cellars, storage areas, wall cavities, ceiling spaces, and shafts.
You should assume that all materials contain asbestos or have it tested whenever:
-it isn't able to be identified.
-you aren't sure that it doesn't contain asbestos.
-it isn't able to be accessed and most likely contains asbestos.
The design plans for structures, buildings, plant, or ship may help you to identify any inaccessible areas. Speaking to architects, plant manufacturers, builders, and even maintenance employees could help. Experience and findings from inspections of similar sections of similar buildings or of that building may be helpful.
It is vital that you take photos and notes during the inspection due to the fact that notes may be used to produce an asbestos register.
Only use experienced people to identify asbestos.
A person that may be asbestos inspecting, determining risk orrecommending control measures must be able to do so.
A competent person should:
be able to determine that materials may be non-friable or friable and evaluate its condition.
have appropriate training, experience, and knowledge in identifying suspected asbestos materials and be able to determine appropriate controls and risks.
be familiar with the construction and building practices to find where the asbestos is likely to be present.
If you don't have the capability to identify asbestos, then you need to use external providers such as a consultant.
Picking an external provider
Whenever you are selecting an external provider, you need to consider the following:
specific expertise
qualifications or professional affiliations
their experience and background
references from previous work
Any type of example of suitability from that an able person may be that they are an occupational hygienist, or a person that has experience in locating and identifying asbestos as well as finding the risks of it.
Occupational hygienist that specializes in asbestos will provide advice on:
reviewing an asbestos register
Identifying asbestos in the workplace
Developing an asbestos register
Sampling asbestos fibers in the air and comparing them to the asbestos exposure standard
providing a clearance certificate
National Association of Testing Authority
A competent person may also be found at the NATA or National Association of Testing Authorities.
Taking asbestos samples
If samples are taken for the purpose of determining if asbestos is there, it's crucial that representative samples are taken. If there are variations in color, appearance or texture of the material you'll want to take additional samples for consistency and valid evaluation. For instance, a full-thickness sample of the friable material from the substrate must be taken. You must additionally keep in mind that taking samples from difficult regions where there has been removal of asbestos before.
The evaluation must be undertaken with the aid of someone who's definitely trained and skilled in a safe method of taking samples of asbestos-containing substances.
Samples have to be taken in a controlled manner that does not create a hazard to the man or woman taking the sample, or people who will work or go to the place in which the sample was taken. Human beings taking samples have to assess the risk and enforce suitable controls. Those may also encompass the usage of a high-efficiency particulate air (HEPA) filtered vacuum cleaner and/or a water spray bottle to suppress airborne dust.
Samples will need to put into sealed containers and labelled right so that it will be clear as to where the sample was taken.
Arrange for analysis of asbestos samples
Because of the Occupational Health and Safety Regulations of 2007, only approved analysts are able to analyze samples that contain asbestos.
Approved asbestos analysts is approved by NATA to perform fiber counting or to identify asbestos in samples as well as to issue findings as endorsed reports under a NATA laboratory.
Before a sample is taken into the lab, you need to confirm that the lab is part of NATA to do asbestos analysis. You can do this by visiting the NATA site.
The lab will give you a report on the asbestos sample. Endorsed reports will have the NATA insignia on the report. You need to keep the report as evidence of compliance.
Are you experiencing Asbestos problems at your facility in Phoenix, Arizona?
If you are having problems with Asbestos is Phoenix, don't hesitate to give us a call today for immediate asbestos removal & remediation services.