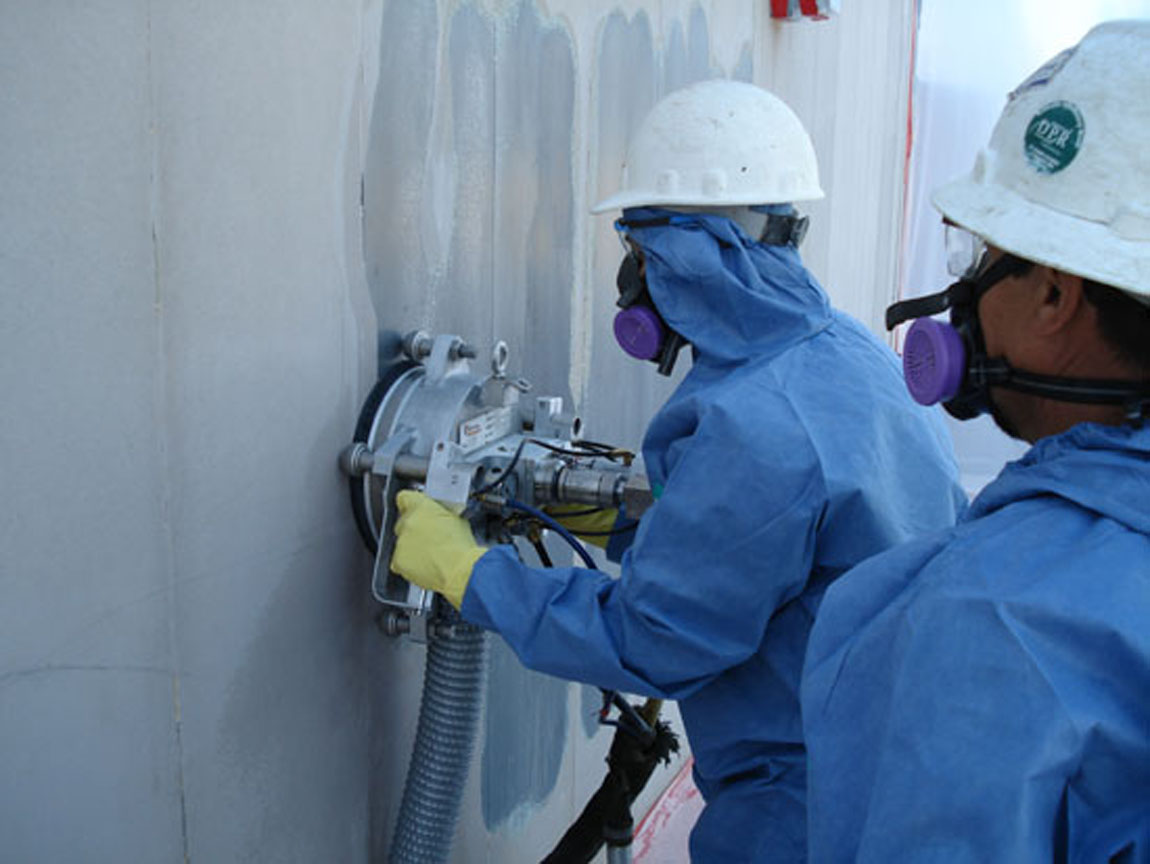 Lead Paint Removal Cost
On average, a full lead-based paint removal project costs $11,500 in the U.S. in 2023. Prices will typically range from $8,000-$15,000, depending on size of the area/home.
Lead Paint Removal Cost Factors
There are several factors that will influence the overall cost of a lead-based paint removal, including:
Materials
Work Area Prep
Testing
Disposal
Area Accessibility
Labor
A good way to estimate how much you'll pay for this service is to measure the square footage of the area needing removal. Most projects will cost between $8-$17 per square foot, according to Homeadvisor.
Residential Lead Paint Removal Cost Factors
If you wish to have lead removed from your home, you must account for these factors that can influence overall cost:
Total Square Footage
Materials Needed
Equipment Needed
Accessibility
Repairs
Labor
Homeowners can expect to pay the same as industrial sites, with removal costs ranging from $8-$17 per square foot.

Lead Paint Removal Near Me
Phoenix-based Native Environmental offers lead removal, lead paint testing & cleaning, and professional industrial cleanup services. The lead removal & remediation specialists employed by Native Environmental are experts in the chemical breakdown of various coatings containing lead and lead derivatives.
Critical aspects involved in the clean up of lead-containing materials include: proper preparation of the work area, erecting critical barriers, pre-cleaning of regulated areas, establishing negative pressure, proper removal of all materials, approved packaging in leak-tight containers that follow EPA-approved disposal guidelines.
Contact Native Environment right here!
Why Remove Lead Paint?
Especially in older homes, lead paint removal is an essential project. Lead dust that the paint puts off can pose significant health risks. This can be especially prevalent in homes that feature flaking or chipping paint. Toxic paint can cause serious health concerns, so getting a testing kit is recommended for anyone trying to keep safe while at home.
Native Environmental LLC In Phoenix, Arizona
Here are a few additional services provided by Native Environmental:
Asbestos Removal. Asbestos removal is one of the most popular types of industrial cleaning services as many older building are known for having asbestos in fireproofing, drywall and more. Learn more about asbestos removal with Native Environmental.
Hydro Blasting. Hydro blasting, also known as pressure washing, is a high pressure waster blasting method used for paint and lead removal. It's mostly used for large mastic and epoxy coating removal projects on vertical and horizontal surfaces. It's also used for paint removal on highways, parking lots and airports. Learn more about hydro blasting with Native Env.
Mercury Spill Cleanup. Mercury spill cleanup is used to eliminate mercury vapor and mercury vapor sources. Common areas where mercury spill cleanup is performed is in industrial facilities, warehouse floors, production floors, assembly floors and more. Learn more about mercury spill cleanup.
Mold Removal & Remediation.  Certain types of mold can cause health problems including Stachbotrys mold, Fusarium, Cladosporium, Penicillium mold, and Aspergillus mold. You need a trained mold remediation specialist to perform mold testing, air testing, secure the containment area, and provide mold removal services. Learn more about mold removal.
Decontamination. In the cosmetic or pharmaceutical industry, any type of chemical spill can be dangerous. Protect you, your staff and your products by hiring and industrial cleaning company immediately. A great industrial cleaning company will include professional decontamination services to make sure your facture is a safe place to work. Learn more about industrial cleaning.
Industrial Vacuuming. The floors in your facility contain chemicals, metal shavings, debris, dirt and more. Standard janitorial services cannot remove these substances. Power vacuuming with by industrial cleaners is the only way to remove the objects and substances from your equipment, walls and flooring.
Native Environmental LLC is a industrial cleaning company located in Phoenix, Arizona offering a full list of industrial cleaning services including mold removal/remediation, asbestos removal/remediation, mercury spill clean up, silo cleaning and more. We can also help with industrial cleaning in Tempe, Tucson, Chandler, Gilbert, Glendale, South Phoenix, Central Phoenix, Scottsdale, Arizona and more.